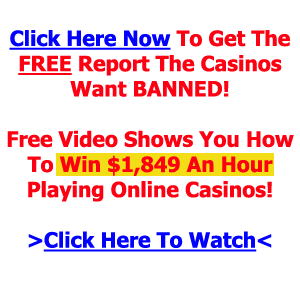 The best gambling articles are, to my mind, those which teach me something new about some aspect of my favorite gambling pursuits.
My two favourite gambling pastimes are playing roulette and betting on National Hunt racing in the UK.
As roulette has been around for just over two centuries, there is very little that is new about which articles can be written.
There are many systems that have been devised to 'beat the wheel' over those two centuries.
As recently as 2004, three people were arrested for utilising laser and computer technology to allegedly predict the sector of the wheel where the ball would land.
They were released without charge, as there was no proof that they actually interfered with the casino equipment. Their winnings as a result were in excess of £1.3m ($2.6m). That was interesting to read, but the thing it told me about the individuals concerned, was that they were incredibly stupid.
They went to the same casino on two nights running. On the first they won over £100,000.
That amount alone would alert casino security. They then went back the following night and won another £1.2m. At which point their winnings were 'frozen' and they were arrested. If they hadn't been as greedy, they could probably have utilised their 'advantage' for quite a considerable period of time and made a considerably larger sum.
Apart from instances like the one detailed above, the majority of articles that get written about roulette are re-stating previously known information.
Horse racing on the other hand, has new information concerning the sport on an almost hourly basis. One of the best places to find new articles and news articles about racing is the Racing Post website. As a big fan of National Hunt racing, I can spend hours on that site just reading all the various articles about the sport that are published and archived there.
Obviously the articles that I find most interesting would probably not be the same as those that would make it on to your list of best gambling articles. It is a subjective matter after all.
Here's a site I came across recently that has a free downloadable report together with a video, that details a method of winning consistently at my favorite table game roulette To get your free report just click the following link #
Quick Tip #1
Try and stick to the bigger online casinos - the reputable ones process literally millions of dollars and do so efficiently. You don't want to go with a small site that nobody has ever heard of. If you win big against them then you could have problems getting them to pay out your winnings and thats never good!
Quick Tip #2
If you want to try playing different games, you should try and do some research before you start. There are lots of sites with good tips and strategies like www.EasyCasinoProfits.com that will help you get started with a solid plan. The worst thing you can do is start playing blindly with no knowledge or prior background of how the game even works.
Quick Tip #3
Discover how a 24 year old "maths geek" stumbled across a very secret gambling system that has an amazing 99.4% win rate. Watch video proof of how to win $1,849 an hour and get your free report only at www.EasyCasinoProfits.com This roulette strategy is so powerful that the big online casinos want it banned! Get your free copy before they force him to take it down.